While some Nigerians are out there misrepresenting our country, some notable Nigerians are doing good and making us proud. Nigerian born Kelvin Okafor who lives in London with his parents has carved a niche for himself through drawing.
Kelvin Okafor
27 year old Kelvin draws life-like portraits of people and celebrities using graphite pencils and charcoal. However, he prefers drawing celebrities as people relate to them easily and can also appreciate his work effectively.
"Raised in Tottenham,London by his Nigerian parents, who according to him are his number one fans, the 27-year-old Okafor says he fell in lovewith photo realism at a very young age. 'I work be tween 90-120 hours on average on each piece,' he explains. he starts 'shaping the whole face from the eyes' 'I chose to work with celebrities originally because the audience can relate to them and would be able to see how accurately and precisely I was able to draw."
Being extremely precise in my drawings is what I'm most passionate about. Some

of my works use as

many as 32 sheets of A3 and A4 acid free watercolor paper, which must all line up. Many of my works are intersected by white lines in the symbol of a cross, which signifies my

faith, and also adds perspective,

making the viewer feel as though they are looking onto the image from a window." – Kelvin Okafor
Some of his earlier works include life-like portraits of Beyonce, Mother Theresa, Amy Winehouse, Nelson Mandela among others. See photos below;
Michael Jackson
Angelina Jolie
Fela
Justin Bieber
Beyonce
Mother Theresa
Amy Winehouse
Well i have to commend him for a job well done, the portraits looks so real and can't even guess that he was able to achieve this using pencil and charcoal. Kelvin took a decision to draw up a portrait of himself, he started August 4, 2013.
Stage 32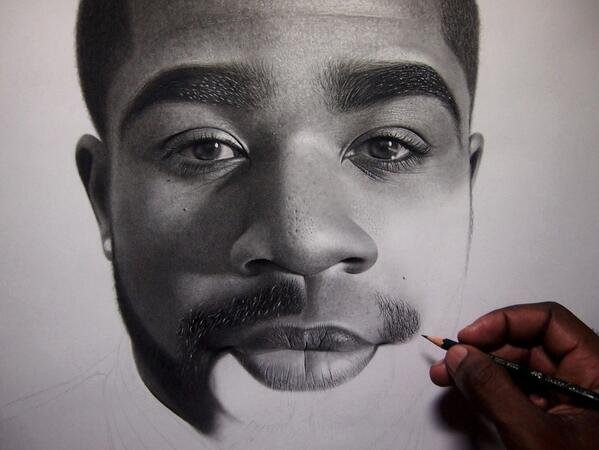 Stage 51
Beautiful works indeed....well done..